The Top 8 Jewelry Shops in Las Vegas
Looking for luxury jewelry on your trip to Las Vegas? You might be swamped for options. Las Vegas is known for its fine shopping locations, many of which include a jewelry store or two. A little research can narrow the field to shops that specialize in what you are looking for, from fine watches to custom engagement rings and wedding bands. You might need a service like jewelry cleaning and watch repair, or you might be looking for a jeweler who buys gold. Whatever you are looking for, here are a few recommended Las Vegas jewelry shops to get you started.
Aaron Lelah Jewelers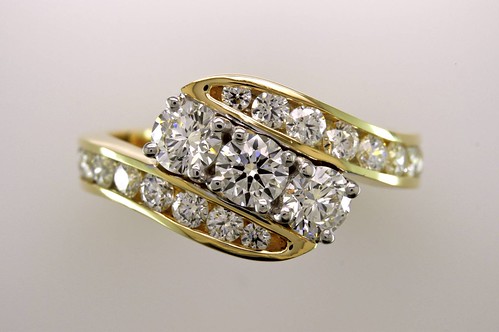 Aaron Lelah and his team of master jewelers create fine pieces in his shop located at 4175 S. Grand Canyon Drive in Southwest Las Vegas. This jewelry store offers men's and women's rings as well as a range of Aaron Lelah signature watches. You'll also find bracelets, pendants, earrings, and accessories like silver keychains and fine wooden jewelry counter boxes. Here you can get unique and custom-made jewelry pieces and work with the designers if you have a particular design in mind. Bring your own stones or metals and they can turn them into the jewelry you've imagined.
D&R House of Diamonds
D&R House of Diamonds has all your diamond needs at affordable prices. Whether you're wanting to purchase a loose diamond or searching for the perfect engagement ring, the team at House of Diamonds works with the best diamond wholesalers to bring you quality certified and ethically sourced diamonds, along with lab-grown and other options. This diamond store is located at 1980 Festive Plaza Drive, Suite 440, in West Las Vegas. House of Diamonds has won gold in Best of Las Vegas by Las Vegas Review-Journal for several years, so you are in good hands if you shop with them.
The Jewelers
The Jewelers has been a family-run jewelry business since it opened in 1976. It offers many luxury brands and designers and has expanded to several locations around Las Vegas and neighboring places. The flagship store is located at 2400 Western Ave. just off the Las Vegas Freeway. You can shop from a range of designers from Dewitt and U Boat to Benchmark and Artcarved, offering everything from expensive watches to engagement rings and statement jewelry. The Jewelers is a trusted jewelry business that had supplied designer pieces to many celebrities over the years.
Huntington Jewelers
Huntington Jewelers has been operating in Las Vegas since 1950, so you know it has stood the test of time in a competitive marketplace. Here you'll find a wealth of knowledge and jewel expertise, along with many services from cleaning and repairs to custom designs and engravings. You can also bring in unwanted gold, diamonds, watches, and more to sell, and receive formal appraisals on pieces you own for both insurance and estate purposes. The shop is located at 7385 West Sahara Ave., Suite 1. Shop at Huntington Jewelers for designer pieces as well as items custom-made to your specifications.
Zaragoza Jewelers
Zaragoza Jewelers is located inside Boulevard Mall at 3680 South Maryland Parkway, Suite 144. It offers jewelry at affordable prices to match your budget, with everything from stainless steel pieces and imitation diamonds made of cubic zirconia to genuine diamonds set in gold or silver. If you are looking for an engagement ring for your special someone then you can find one here for anywhere from $100 to $5,000, perfect for a couple on a budget. The jewelry shop also offers services like metal and gem cleaning and watch repair, as well as financing.
Jeff White Custom Jewelry
Jeff White Custom Jewelry offers high-quality unique and custom pieces created by a team of expert jewelers. They work with you to create the piece as you envision it, whether it's a statement necklace or a one-of-a-kind engagement ring to show your love just how special they are. The shop is located in the quaint Tivoli Village at 410 South Rampart Blvd., Suite 160 in West Las Vegas. Jeff White Custom Jewelry is the place to go if you want gorgeous custom designs from excellent new materials or incorporating something you want to be updated. They also repair cherished older pieces.
Michael E. Minden Jewelers
Michael E. Minden Jewelers is a diamond jeweler specializing in engagement rings, wedding bands, and custom jewelry. This family-owned shop offers in-house designer collections and custom options. It is located on the top floor of Fashion Show Mall at 3200 S. Las Vegas Blvd., Suite 2475. Bring in your gold and diamond jewelry to sell for cash, or have your favorite pieces appraised, cleaned, and repaired. Michael E. Minden Jewelers has been producing quality rings and other jewelry in Las Vegas for over 30 years and has worked with thousands of clients to create the perfect piece for any occasion.
T-Bird Jewels
A family-owned business, T-Bird Jewels has been popular with the Las Vegas elite since it first opened in the 1960s. Now located at 1990 Village Center Circle, in the upscale Summerlin neighborhood, it was once a part of the Thunderbird Hotel from which it was named. T-bird Jewels offers many items from luxury designers including Rolex watches, diamond jewelry by Forevermark, and silver and gold charms by Rembrandt Charms. T-bird offers a full range of services, from repairs and appraisals to custom jewelry designs. You'll find every type of jewelry you want by many designers in a range of styles.
Jewelry shopping is an important investment and should be done with care. Know what you want? Then you can narrow down which stores are most likely to carry it and head to those, or see who does custom work and can create the perfect design for you. Still, looking? That's half the fun. Head to a jeweler with a range of options and the experienced staff will show you what there is at hand. At De Castroverde Criminal & Immigration Lawyers we hope you've enjoyed this list. Contact us and tell us which jeweler you're most excited to check out first.