Gun laws vary from state to state and sometimes even in locations within the state. As a gun owner, it's your job to know and understand the gun laws that apply to you. Gun laws cover everything from who can own a gun, how long of a wait is involved when purchasing a gun to whether you can carry your gun on your person, either as open carry or conceal and carry. Let's look at the gun laws in Las Vegas, Nevada.
What Are the Basic Gun Laws in Nevada?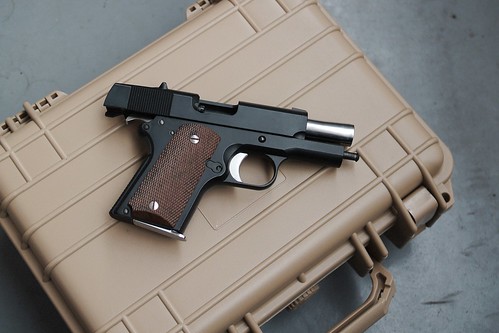 You must undergo a Nevada background check to purchase a firearm in Nevada. This background check may take up to three days and ensures that the purchaser meets the minimum requirements to own a gun in Nevada. Disqualifications for gun ownership include:
Under 18 years of age (21 for handguns).
Domestic violence misdemeanant.
Convicted felon.
Undocumented citizen.
Fugitive.
Drug addict.
Dishonorable charge from the military.
Adjudication as mentally ill.
Former U.S. citizens who renounce citizenship.
Convicted stalkers.
Under information or indictment for a felony.
Under court order to cease harassing, stalking, or threatening an intimate partner, child, or family member.
Nevada currently requires this background check for all gun purchases, including those in a private gun sale. There are some exceptions for transfers between family members or temporary transfers, and it's up to the individuals buying and selling the firearms to know if they're exempt or not. If you don't pass the background check, you can appeal your case. It's highly recommended that you consult with an attorney about the appeals process before attempting to appeal your denial.
While there's no mandatory wait time before purchasing a firearm, the background check usually takes up to three days, inadvertently adding a wait time. If, for any reason, the background check takes longer than three days, the seller is allowed to sell the gun without having to wait any longer than the three days.
Nevada does recognize the red flag law, which allows a family, household member, or law enforcement officer to file an application to obtain an order prohibiting someone who poses a threat to themselves or others from possessing or purchasing a firearm.
Can You Open Carry in Nevada?
Nevada doesn't have any laws restricting you from the open carry of firearms in the state. Open carry means that your gun is visible to others, either a handgun in an unconcealed holster on your hip or a rifle or shotgun across your shoulder on a sling. You can also openly carry a loaded gun in your vehicle as long as you have a legal permit. You can store the gun in your glove box, in a gun case, or under the seat. Many places in Nevada prohibit guns, and it's up to gun owners to know and follow those restrictions.
Can You Conceal and Carry a Gun?
Nevada allows gun owners to conceal and carry handguns as long as they have a valid conceal and carry permit (NRS 202.3653) obtained through the state of Nevada. Conceal and carry means that you can hide your weapon on your body, either a handgun in a holster under your clothing or carrying it in your purse or bag. When you have a conceal and carry permit, you can also carry a loaded gun in your vehicle, concealed on your person.
Only gun owners aged 21 and older can apply for a conceal-and-carry permit. You must also complete an approved firearms course and be legally allowed to own a firearm. If you don't have a valid conceal and carry permit and chose to conceal a weapon, you can be charged with a Class C felony (NRS 202.350), punishable by a fine of up to $10,000 and one to five years in prison. If you're charged with concealing a weapon without a permit, reach out to the team at De Castroverde.
Can You Be Arrested for Carrying a Gun?
Yes, you can be arrested for carrying a gun in prohibited areas. You can also be arrested for concealing a handgun without a conceal and carry permit and for attempting to hide a firearm other than a handgun with or without a conceal and carry permit. You will also be arrested if you're not legally allowed to be in possession of a firearm due to one of the disqualifying criteria on the background check.
Where Can't You Carry a Gun?
While open carry and conceal and carry are legal options for having a firearm on you, it's important to note that Nevada prohibits the presence of firearms in the following locations:
Public schools.
Public colleges and universities.
Childcare facilities.
Courthouses.
Courtrooms.
Law enforcement agency facilities.
Legislative buildings.
In addition to these places prohibited by the state of Nevada, the federal government prohibits firearms in locations including:
Airports.
Post offices.
Federal courthouses.
Social security offices.
Va facilities.
Military bases (unless authorized).
Nevada also has two specific federal properties with restrictions against firearms:
Hoover Dam.
Red Rock Canyon National Conservation Area.
Businesses in Nevada are considered private property, and while there's no law stating that you can't open carry on private property, each business owner has the right to decide whether they allow it. They can exercise this right by asking you to leave or remove your firearm when you attempt to enter their business with an open carry firearm. You can also open carry in a bar or tavern if the owner allows it but may not have a blood alcohol level above 0.08 while it's in your possession.
De Castroverde Law Group Criminal Defense Lawyers
If you or someone you love has been charged with violating Nevada gun laws, reach out to the knowledgeable team at De Castroverde. We have the experience necessary to evaluate your case and discuss your options. Our Vegas Dream Team will work hard to protect your rights while advocating for your case. Don't let criminal charges affect your work, your relationships, or your future. Contact us 24 hours a day, seven days a week by phone at (702) 222-9999 or via our online messaging system for a free case evaluation.
Photo Credit: Image via Flickr by MIKI Yoshihito. (#mikiyoshihito) via CC BY 2.0