Can you get charged with DUI days later?
When you get behind the wheel after having a few cocktails, you're taking a chance with your safety and the safety of others, as well as risking the possibility of being pulled over by police. If you've been drinking and manage to make it home or another destination without incidence, are you safe from being charged with a DUI? Or, can you get charged with a DUI days after? The team at De Castroverde feels it's important for everyone to know and understand the answer to this question.
What Is a DUI?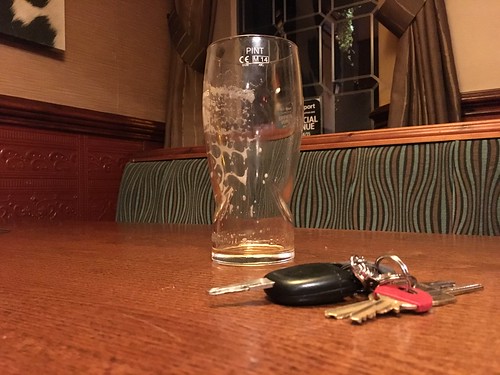 Driving under the influence, also known as driving while impaired or DWI, is a traffic violation relating to operating a vehicle while impaired by drugs or alcohol beyond the legal limit. In Nevada, anyone driving with a blood alcohol content of 0.08 or higher is guilty of driving under the influence. For commercial drivers, this limit is even more strict at 0.04 BAC. Drivers under the legal drinking age of 21 need to have a BAC below 0.02, or they will be charged with a DUI.
It's important to note that alcohol is not the only way to be impaired. Other illegal substances such as marijuana, acid, and meth can also get you convicted of DUI. Any trace of illegal drugs in your system marks you guilty.
What Are the Nevada DUI Laws?
Nevada has two subsets of laws regarding DUI. These are the Illegal Per Se and Implied Consent laws. Illegal Per Se means that the BAC limit is simply a guide, and while being over the limit means a definitive charge of DUI, you can still be charged even if your BAC is below the legal limit. Implied Consent means that when a police officer in Nevada pulls you over, you must submit to a BAC if requested. Getting behind the wheel of your car is providing consent to a BAC test. If you refuse, you can be arrested.
What Are the Nevada DUI Penalties?
A DUI conviction comes with a harsh set of consequences that increase in harshness with multiple offenses. Also, if you cause an accident while driving under the influence, causing injury or death, the consequences are even harsher. Penalties include:
First offense. You will be fined between $400 and $1,000, be required to attend DUI school at the cost of approximately $150, have your license revoked for 90 days, a possible jail sentence of two days to six months, and possibly be required to attend a substance abuse treatment program.
Second offense. If your second offense happens within seven years of the first, your penalties will increase. The fine will range from $750 to $1,000. In addition, your license will be revoked for one year, a possible jail sentence or house arrest for 10 days to six months, 100 to 200 hours of community service, possible suspension of car registration, and possible requirement of a substance abuse treatment program.
Third offense. A third offense within seven years adds even more to the consequences. You will be fined $2,000 to $5,000, have your license revoked for three years, a possible prison sentence of one to six years, and possibly be suspended from registering a car.
DUI causing serious injury or death (regardless of offense). This DUI charge will garner you a $2,000 to $5,000 fine, revoke your license for three years, and you may serve a prison sentence for two to 20 years, depending on the severity.
A misdemeanor first- or second-offense DUI will show up on your driving record for seven years after the case ends in the state of Nevada. Felony DUI convictions for a third offense or DUI causing serious injury or death will never be sealed and remain on your record permanently.
What Evidence Leads to DUI Charges?
The most obvious way to be convicted of a DUI is to be pulled over by a police officer and register a BAC over 0.08 (0.04/0.02). However, to be convicted of driving under the influence, a prosecutor just needs to prove that you were in operation or control of the vehicle on a roadway to which the public has access and that as a driver, you:
Were under the influence of alcohol or drugs at the time you were behind the wheel.
Had a BAC of 0.08 (0.04/0.02) at the time.
Are found to have a BAC of 0.08 (0.04/0.02) within two hours of ending your drive.
The prosecution only has to prove one of these three criteria to get a DUI conviction. You could be charged with DUI even if a police officer did not witness you driving. Evidence of you driving under the influence that could lead to your arrest days later include:
Video, photographic, or audio evidence of you driving under the influence.
Witness accounts of you driving under the influence.
Drug or alcohol evidence in your vehicle, such as containers or paraphernalia.
Proof of damage caused by your driving under the influence.
Chemical evidence taken shortly after you arrived at your destination.
Can DUI Charged Be Dropped or Reduced?
If the police didn't witness you driving under the influence and don't have chemical evidence such as a breathalyzer or blood test, you might have a strong defense against the DUI charges. If you or someone you love has been charged with a DUI days after the incident, reach out to the knowledgeable team at De Castroverde. Our criminal defense attorneys will work hard to have your DUI charge dropped or reduced. In Nevada, the law prohibits the prosecutor from dropping or reducing a DUI charge unless it's obvious that:
Probable cause doesn't support the charge.
At the time of trial, the charges cannot be proven.
A DUI charge can be life-altering and expensive. Trust the team of De Castroverde Law Group to fight for your rights when it comes to a DUI charge. We have the experience and skill to provide you with the best defense possible. Reach out to us 24 hours a day, seven days a week by phone at 702-222-9999, or use our secure online messaging system. A team member would be happy to answer any questions or get you set up with a free case evaluation.